The ABCs of 3DL : Everything You Need to Know About 3D Laminate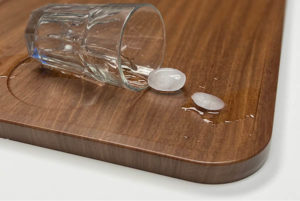 3D Laminate (3DL) is a bona fide superstar surface. Its hearty, yet attractive properties make it a winning choice for so many applications and industries. What gives it a leg up on other laminate surfaces is the unique manufacturing process. Stratis Industries, in Centuria, Wisconsin, is one of only a few exclusive companies to have perfected the 3DL method.
While most laminates lie 2-dimensionally on a flat plane, 3DL forms around items and conforms to contours, edges, shapes, and curves. A continuous roll of PVC film serves as the thermolaminate and provides a flexibility not available in other materials. Plus, it eliminates the seams that would occur with a surface like HPL. Instead of using resin to adhere the film to the base, it is molded around the substrate using heat and pressure, and creates a smooth, ergonomic surface.
To get the full picture of the mighty 3DL and its properties, qualities, benefits, and uses, below is a handy A-to-Z primer packed with helpful information.
Architectural. Textured surfaces are rising in popularity. 3DL can easily conform to dramatic shapes and be intricately shaped and carved. Trending is contoured surface architectural wall panels. 
Branding. An essential way to connect with customers and increase recognition and retention is with branding. 3DL overlays and customizations bring your brand to life with custom table tops, personalized panels, logo overlays, and graphic design treatments.
Cost-Efficient. Realistic replicas, longevity, and a shorter, more streamlined manufacturing process makes 3DL considerably more affordable than other laminate materials or stone, steel, concrete, and wood.
Durable. High-touch, high-traffic areas with 3DL surfaces can withstand continued wear and tear, plus frequent washing and remain looking brand-new – no protective coatings or sealants necessary. 
Ergonomic. 3DL workspace items such as adjustable desks, monitor arms, tablet stands, and more, promote good ergonomics, create comfortable working conditions, and easily withstand frequent movement.
Functionality. Many spaces are multifunctional and dynamic. 3DL furniture and wall panels can handle always being on the move and take into consideration medical equipment and tech and power cords within their designs.
Group Effort. Stratis Industries frequently pairs with healthcare facilities, interior designers, architects, and manufacturers in a wide range of industries to create their 3DL visions and designs. We will become an extension of the team and bring ideas from concept to prototype, product development to assembly and shipping. 
Harsh Cleaners. Many industries need surfaces that can withstand the harsh cleaning solutions needed for a completely hygienic scrub down. Moisture-resistant, 3DL is able to maintain the highest levels of sanitation and hold up to frequent, vigorous sanitary cleanings with mild detergents to heavy bleach and hospital-grade disinfectant cleaners.
Industries. Among others, 3DL particularly shines in the following industries: Healthcare, Hospitality, Senior Living, Retail, Education, Interior Design, and Work Environments.
Joint-Free. Since the 3DL process eliminates joints, cleanliness is taken to a whole new level by eradicating the dirt-catching, hard-to-clean crevices where bacteria can lurk.
Knockabout. No need to handle 3DL surfaces and furniture with kid gloves. Being particularly impact-resistant, it can take quite a beating – bumps, knocks, drops, and collisions – and be no worse for wear. 
Look-Alike Wood. Wood usage for items and surfaces is as old as time and is still a favorite. Stratis' ultra-realistic 3DL long-grain or reclaimed wood patterns not only cost less, but will never crack, peel, absorb moisture, stains, or bacteria, and doesn't require costly maintenance.
Monikers. 3DL is also referred to as thermolaminate, rigid thermofoil, RTL, or 3D laminate.
NEMA & ADA Compliant. The beneficial qualities of 3DL ensures that items can be easily created within the Americans with Disabilities Act of 1990 (ADA) and the National Electrical Manufacturers Association (NEMA) guidelines.
Personalization. Put that imagination to work and use a combination of colors, images, patterns, and text for 3DL projects. Personalize schools, workspaces, restaurants, and more!
Quality. The high-caliber PVC film and heat/compression adherence process produces high-quality items and surfaces that will retain their excellent appearance for long-time, continual use.
Resistant. In addition to being moisture- and impact-resistant, add stain-, heat-, scratch-, scuff-, crack-, and split-resistant to the list of things that won't affect 3DL's enduring quality and look.
Soft Edges. In place of sharp, traditional edging, 3DL has the option of a soft, seamless edge that prevents jarring bumps, while the contoured self-edge assists with extra cleanliness.
Table Tops. Table tops are a blank canvas waiting to be engaged. When built with 3DL, the water-, stain- and heat-resistant surface can handle perpetual cleaning to ensure a completely hygienic surface. The fun part is lots of space to play with like 40+ colors and textures, plus the ability to add embossed overlays and custom options like logos.
Uses. The applications for 3DL continue to grow as industries discover its value. Currently, frequent items are desks, table tops, wall panels, over the bed tables, cabinets, dressers, shelves, door/drawer fronts, beds, dining carts, medical carts, counters, chairs, conference tables, monitor arms, workstations, and retail display components, among others.
Variety. From painted, stained, or varnished, to woodgrain, stone, or metallic, 3DL offers a myriad of colors and finishes to suit any situation or environment. High gloss, realistic replicas, graphic designs – the choices are endless.
Water-Resistant. Moisture is a leading culprit of surface damage. Restaurants, bars, healthcare, hospitality, education, workplaces – all these locations have the potential for water contact. From spills to cleaning to high-humidity environments, 3DL will keep out moisture, resist warping, and never require (re)applications of sealants for maintenance.
eXperts. Stratis is among a very elite group in the country that has mastered the process of 3DL.
Your Vision. Have a unique 3DL safety, space, or design need?  Work with Stratis for creative solutions and custom components that are high-quality and cost-effective.
Zero Seams. 3DL specifically shines in the domain of "self-edging" – when the material is wrapped around edges, without seams. Seamless surfaces help to reduce the growth of bacteria and increase sanitation.
As techniques and materials continue to improve and evolve with consumer needs, 3D laminate will only grow in its applications. Keep an eye out to see what new developments arise in this exciting field of surface technology and design which Stratis Industries has proudly been a frontrunner in for over 30 years. Contact us with your 3DL needs!