We use state-of-the-art machinery and current manufacturing techniques to assure high quality products for our customers.
Multi-head CNC Routers
Multiple, multi-head precision CNC machines and tools allow us to respond quickly while providing effective product solutions. Nested based manufacturing and a material handling system result in speed, accuracy, and quality.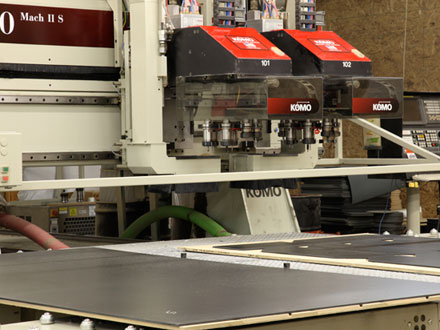 Thermolaminators
Our state-of-the-art laminate membrane presses take a combination of several different laminate materials with a variety of substrate materials to create a 3 dimensional (3D) finished wood part. This is done efficiently, with very little waste, while assuring optimum quality.
Shaw Almex Thermolaminator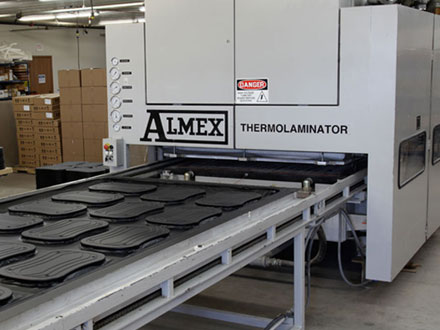 Italpresse Matrix with Automatic Pin Pedestal System
It is designed and engineered for the highest requirements in productivity, flexibility, and reliability. Its creation is the evolution of designing and manufacturing thousands of membrane presses since 1980. The fast, precise, and reliable scanning system reads the panels and activates the pin pedestals for all shapes and sizes of Panels
2-roll PVC foil dispenser with automatic cut-off device
Automatic PVC foil pulling system
Automatic tray un-loader, with vacuum system or tray rollover station
SNX nVision Contour Edgebander
Our edgebander offers truly amazing edgebanding versatility with simple operation and a minimal shop footprint. With this machine, you can band and trim edges on both very large or very small straight or shaped parts with minimal setup.
"Consistently Tighter Butt Joints Around More Shapes, Smaller Radiuses!" ~ SNX nVision
Kern HSE (High Speed Engraving) Laser System
Our Kern laser system allows us to move beyond laser engraving and will quickly process mdf, wood, plastics, leather, acrylic, light metal and more.