Raise a Glass to 3DL: The Advantages of 3D-Laminate in Today's Bars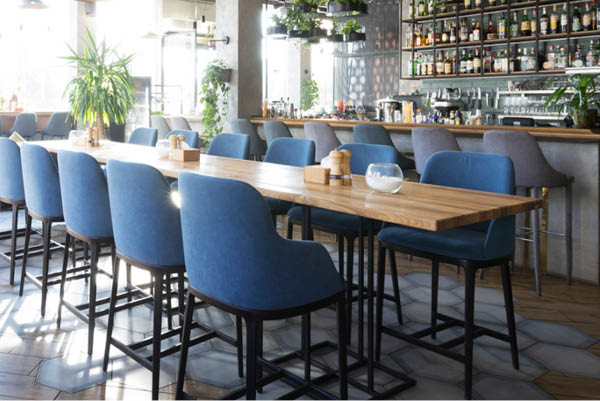 In 2018, USA Today published an article citing the national average of bars per capita in the United States was approximately 184 bars/restaurants per 100,000 residents. Not surprising, we like our drinking holes – they provide us with a sense of community, a place to socialize, and tailored, unique experiences.
As we begin to navigate the post-pandemic world, even with COVID still in our midst, it's as if we are bears emerging from a long hibernation and eager to get back to life as we remember it. And for many, it is a relief to again wander back to their favorite neighborhood bar (Norm!) or ditch their sweatpants for some fancier garments and hit up a posh, cocktail lounge.
The beginning of 2022 saw a shift in what customers wanted from their libation establishments and new design and functionality trends for those spaces. Here is where 3D-Laminate (3DL) gets its chance to shine. Its properties, cost-effectiveness, and options can tackle these new challenges with ease. Textured 3DL is a durable surface, resistant to moisture, and tough against collisions and impacts. It comes in an endless variety of colors and finishes. 3DL expert Stratis Industries, out of Centuria, Wisconsin, can assist with any of the following bar projects plus any others that whet your whistle.
Why 3DL is a Necessary Bar Ingredient
The Bar. Usually the largest object and focal point in the space, it is the never-ending tap, mix, or pour for your beverages. It also is often the busiest spot in the bar and is inadvertently under siege from patrons, bartenders, and servers alike.
Bar Top

– It is necessary to take into consideration durability, porousness, texture, and look. While wood has traditionally been the surface of choice for decades, wood is problematic in that it is soft, prone to absorbing moisture, stains, and bacteria, can warp, and often needs costly maintenance. Not so for 3DL – water-, and stain resistant, it can withstand frequent scrub downs from approved cleaning solutions and will easily maintain its texture and color. Other materials such as various stones and steel are costly and very heavy. The lighter 3DL can hyper-realistically mimic any other high-end surface, but at a higher durability and lower cost. Finally, another advantage of 3DL is a soft, seamless edge option. It prevents patrons from being harshly jabbed as they lean into the bar and eliminates dirt-catching, hard-to-clean crevices between the joints.

Bar Cladding

– The bar top may be the star of the structure, but don't overlook the real estate from the floor to surface. There are endless opportunities for subtle or playful looks in this more-visible-than-you-think space. That being said, it does take quite a beating, or in this case, a kicking. 3DL can provide a wide variety of styles that will faithfully retain their appearance without worry of scratches and scuffs.
Walls/Panels. Although maybe not the focal point of the bar, the walls and sectional panels might wield the most expanse and sets the tone and atmosphere of the environment. The opportunities to create that uniqueness that customers crave, as well as your establishment's brand identity, are endless. Just because 3DL is utilitarian does not mean that it is boring – quite the opposite. With 3DL wall panels and sectionals, choose from painted, stained, or varnished, to woodgrain, stone, or metallic… the possibilities are endless and will surely work with your vibe. Additionally, textured surfaces are rising in popularity, and contoured surface architectural wall panels are an easy way to incorporate this trend. The multitude of patterns and color choices can be attention-grabbing or complimentary accentuations of your theme. Embossed overlay options can deliver additional depth to any style, which brings us to branding. Your custom name and logo are an essential way to connect with customers and increase recognition and retention. A customized creative environment and/or a cool branded focal point is a great way to gain free publicity as people are never far from their phones documenting all their experiences and posting their snapshots and videos to social media.
Table Tops. Some patrons prefer to sit at the bar, others like to stand, but often bar tables are highly coveted spaces, especially for parties of 3 or more. When built with 3DL, like the bar, they are water-, stain resistant and can handle perpetual cleaning to ensure a completely hygienic surface for the next patron. Contoured, self-edged sides in place of the sharp, traditional methods of surface edging assists with safety and cleaning. The fun part is that 3DL table tops are like a blank canvas – lots of space to play with creatively like 40+ colors and textures, plus the ability to add embossed overlays and custom options like logos. If a traditional wood-look is more your speed, this is where 3DL can be a huge help. Choose an ultra-realistic 3DL long-grain or reclaimed wood pattern – it not only costs less, but unlike real wood it is warp-resistant when subjected to higher interior humidity levels.
What's Hot in the Land of Libations
Functional Faux. Stained concrete has been a popular trend due to its low cost and ease of operations, but the industry is moving on. Today, keeping in mind affordability and functionality, replica wood and stone surfaces have become the go-to material for many bars. Reclaimed wood looks are particularly in. As discussed earlier, 3DL is the perfect choice to check all the boxes: a myriad of realistic looks, durability, and cost-efficiency.
Biophilic Briefing. After being cooped up during quarantine, customers are clamoring for biophilic design, or the feeling of being outside with nature while still inside. The palette for this look is natural tones and colors found in the wild, while also incorporating stone and wood surfaces into the mix. 3DL, with its wide range of colors, patterns, and textures can easily and affordably bring Mother Nature to the party. Consider leafy or foliage-inspired screens and overlays to further elevate the landscape.
Panel Performances. Customer's comfort levels with public places seem to wax and wane with the rollercoaster nature of the pandemic. To keep visitors feeling safe, yet still social, 3DL moving sectionals and added wall panels will provide a dynamic environment perfect for space flexibility. Opaque and semi-transparent screens can create smaller sections for patrons, while still encompassing the community vibe of bars. Other textured and colored wall sectionals can add privacy to nooks and corners. Finding the balance between style and practicality will establish repeat patrons who feel comfortable and secure in establishments and share their positive feedback with others.
Portable Potables. The mobile bar trend was born out of safety precautions but was quickly realized to have a myriad of advantages. These pre-stocked portable carts streamline and improve service and sales, while also keeping the traffic flow around the main bar more manageable. They are a more cost-effective and practical option than the addition of other static bars. And they do not always need to be in use and can be stored on quieter nights. With mobility comes bumps, which is why 3DL is a great solution for this item. It provides outstanding durability when navigating smaller spaces filled with furniture, is moisture-resistant, and easy to clean. Plus, the variety of colors, finishes, and branding opportunities will make a 3DL mobile bar the talk of the town.
Keeping Tradition Alive
If the bar already has a lively history, with a cemented brand and vibe, an update doesn't mean you have to change your look much at all. With 3DL's ability to recreate so many surfaces and looks, the next time maintenance is necessary, try replacing original surfaces with it instead. The durability and cost-effectiveness will only add value to the venue without diluting or sacrificing the originality of the bar. For skeptics, a design company was asked to completely recreate the flagship Tony Roma's bar in Orlando. The team couldn't believe that the original had been created with a 2DL laminate – they were so sure it was real marble. 3DL would have been an even better surface material choice for this project with its ability to form around items as opposed to only lying 2-dimensionally on a flat plane. Plus, it can easily conform to heavily contoured surfaces and shapes, including edges, curves, and corners. Still the same great look, but with a shot of longevity to continue the tradition.
Stratis Industries is just the company to help you achieve all your custom bar aspirations in a cost-effective manner with top-notch customer service and an emphasis on 'Made in the USA'. Contact us today!