Superstar Surface Aids Hospitality Industry: Multipurpose 3D Laminate Thrives in a New Era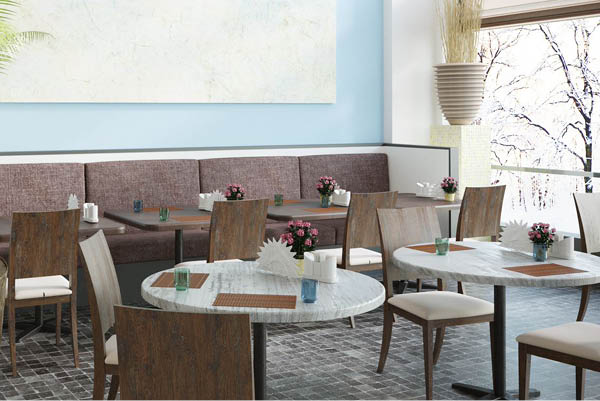 After nearly two years of lockdown during the COVID pandemic, there has been a flurry of wanderlust recently. The hospitality industry, hoping to jumpstart business after such a stagnant time, is reassessing the revised wants and needs of travelers and patrons in 2022 and how to implement them into their establishments. Materials used are one such area under review. Luckily for them, 3D laminate (3DL) is a superstar that can provide multiple solutions to the new trend being referred to as "hybrid hospitality."
★Meet 3DL – The Superstar Surface★
What makes 3DL such a star is its ability to form around items as opposed to lying 2-dimensionally on a flat plane. A continuous roll of PVC film easily conforms to heavily contoured surfaces and shapes, including edges, curves, and corners, and adheres to the base with a two part adhesive. 3DL is more durable than most surfaces, and exceptionally resistant to moisture, and impact. It comes in an endless variety of colors and finishes. Stratis Industries, based out of Centuria, Wisconsin, is among the very elite group in the country that has mastered this process.
Let's visit a "hybrid hospitality" hotel to showcase the industry's newest trends and highlight where 3DL really shines.
The Lobby
★Applications: Front desk, table tops, wall panels
You only get one chance to make a first impression, and that all begins in the lobby – the most frequented, highest traffic location in the entire hotel. The once single-purpose area is being transformed into not just a place, but an experience enriched with creative space usage that promotes social interaction, provides workspaces, and entices guests to linger away from their rooms longer. Two highly important factors for the lobby are style and durability.
Durability: Furniture is rearranged, luggage carts knock about, bags and suitcases take a tumble, but 3DL front desks and furniture can handle it. Its core strength and impact-resistance keeps furnishings in like-new condition day in and day out. And, with hustle and bustle comes drips and spills – 3DL is stain-resistant and easily cleaned with standard cleaners.
Style: Often the most design-impactful space in a hotel, the lobby is the perfect place for a little drama or sleek lines. The versatility of 3DL makes it the correct choice as it can be intricately carved and stunningly shaped. It specifically shines in the domain of "self-edging" – when the material is wrapped around forms and edges without seams. Textured surfaces are rising in popularity, and contoured surface architectural wall panels are an easy way to incorporate this trend. The endless patterns and color choices can be attention-grabbing or complimentary accentuations of your theme.
The Hotel Room
★Applications: Desks, cabinets, dressers, shelves, door/drawer fronts, beds
No longer are the lines between travel for business or pleasure clear. With a sky-rocketing number of companies switching to remote or hybrid work arrangements, hotel rooms need to function as a fusion space for work, leisure, and sleep. That's asking a lot of a room, but precision planning and the right items can go a long way. 3DL can not only assist in constructing a multipurpose room, but improve upon it with cleanliness and panache.
Hygienics: Post-pandemic, there is a heightened expectation for clean and sanitation. Since hotel rooms host guest after guest in rapid succession, the odds of coffee cup rings and unidentified splotches are quite high. Using 3DL for furniture, door and drawer fronts, and desks helps to ensure everything is spic and span for the next patron and still looking sharp. 3DL is water-resistant and can withstand the standard cleaning solutions needed for a completely hygienic scrub down. The contoured surface edging prevents dirt-catching, hard-to-clean crevices, and joints.
Design: Just because 3DL is utilitarian in nature, by no means does it equate to a singular look. Considering the number of purposes a hotel room now serves, finding the perfect balance and style of work and play can easily be achieved. From painted, stained, or varnished, to woodgrain, stone, or metallic, the possibilities are endless and will surely work with your vibe.
The Restaurant/Bar
★Applications: Table tops, dining carts, wall panels, counters
Patrons are eager to get back to some normalcy these days and especially take advantage of restaurants again. Wanting ever-more sensory experiences, patrons can be treated to a myriad of memorable styles and themes that are overflowing with creativity. But, the emphasis on cleanliness and safety should never wane.
Safe: 3DL surfaces and furniture are water-resistant, and stain- and heat-resistant. They can withstand the standard cleaning solutions needed for multiple, completely hygienic scrub downs daily, especially table tops. Additionally, 3DL can provide softer, contoured edges in place of the sharp, traditional methods of surface edging – sure to help take the sting out of bumping into other tables or dining carts.
Table Tops: Table tops are like a blank canvas – lots of real estate to play with creatively. 3DL offers 40+ fun colors and textures, plus the ability to add custom options like logos. For those who appreciate the traditional look of wood, this is where 3DL can be a huge help. Choose a hyper-realistic 3DL long-grain or rustic wood pattern – it not only costs less, but unlike real wood it is warp-resistant when subjected to high humidity levels. 3DL is resistant to cracking and peeling, is water-resistant, and easy to clean.
The Conference Room/Workspace/Business Center
★Applications: Conference tables, desks, wall panels, cabinet fronts, monitor arms
Forecasted to be more than just a passing trend, working remotely is becoming more commonplace. And while companies are adopting hybrid arrangements, hotels should too. The need for traditional conference rooms and business centers are still necessary but should embrace an adaptable environment to suit all versions of working situations.
Functionality: Easy transformation of spaces from communal work areas to meeting rooms to private spaces requires mobility and durability in furnishings. 3DL wall panels can change and recreate spaces, all while withstanding constant moving and possible bumps. Furniture and conference room tabletops can also hold up, always being on the move. Both can take into consideration tech and power cords within their design.
Comfort: Watch out for "tech neck"! One size does not fit all when it comes to workstations and their users. Since community spaces need to apply to everyone, changeability is the name of the game. 3DL adjustable desks, a variety of monitor arms, and tablet stands promote good ergonomics and create comfortable working conditions for all.
The Spa/ Workout Facility/Pool/Locker Room
★Applications: Lockers, cabinet/draw fronts, shelves
Coming out of the pandemic, an emphasis has been placed on both physical and mental health and well-being. With an aging population and people seeking out new ways to care for themselves, the interest in
medical spas (medspas or medi-spas)
has grown. Beyond the traditional spa menu, a broader range of services are being offered by osteopaths, yoga masters, psychologists, deep tissue therapists, and anti-aging experts. What hasn't changed, and has actually increased, is the high expectation for a sanitary experience.
Disinfect: Relax, workout, and receive care without worrying about germs. 3DL is a great choice for spa, fitness, and healthcare environments with its ability to withstand mild detergents to disinfectant cleaners. Additionally, 3DL has the option of safe, soft edges and zero seams, which helps to reduce the growth of bacteria. It is water-resistant to handle mops that come within contact of furniture bases.
My grandma has been taking Xanax for more than 10 years. She says that she doesn't care about withdrawal because she is already too old. Still, she just wants to live a happy life without panic attacks, and Xanax can give this to her. I'm glad she has a treatment https://balancedplatenutrition.com/services/xanax/ that makes her feel healthier. That's all that matters.
Nature: While you might come across energy-revving red hues in the workout facility, it's all about calm and soothe in the spa environments. More appropriate are earth-tones and soft colors, along with natural looking materials and textures – biophilic design has been proven to reduce stress and improve health outcomes. 3DL can recreate realistic natural looking surfaces like solid wood grain or textured stone, but with the ability to withstand water, cleaning supplies, oils, and sweat, and not compromise the look or quality in the least.
Stratis can help you with your hospitality needs, including unique, custom solutions. Get in touch with us!