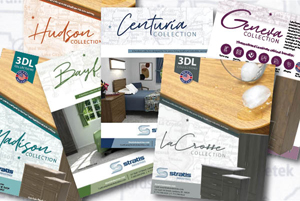 Stratis' Flagship Collections are Steeped in State Pride
Consciously or unconsciously, our surroundings and place in the world impacts and influences us from all directions. According to Eric Weiner in Trend Magazine, "Geography may not be destiny, but it comes awfully close. In ways large and small, our surroundings shape our lives. Our productivity, happiness, and creativity are all functions of place. Simply put: Where we are affects who we are."
At Stratis Industries, this resonates with us. We have a great sense of national pride. "Made in America" truly means something to us, and we've worked hard to bring more of what we do in-house, so our products are manufactured end to end in Wisconsin.
On a smaller scale, we are proud Wisconsinites. Located in Centuria, Wisconsin, Stratis has developed from a small, family-owned business to a thriving, growing company. The foundation, morals, and beliefs that we possess as a group are a direct reflection of our surroundings and shine through in all our products.
We are:
• Hearty. Our winters here are not for the faint of heart, but we wouldn't change a thing. Although we consistently experience -30-degree temperatures (that does not include windchill!), we embrace the brisk and head outdoors to play.
• Hard-Working. We aren't afraid to dig in and get our hands dirty. Wisconsin is recognized for its output of fundamental and quality products, particularly dairy, lumber, beer, paper, and Harley-Davidson motorcycles. These industries require diligence and physicality, which we have in spades.
• Multifaceted. Our environment goes far beyond the misconception that Wisconsin is dominated by farmland. Not true - there are also rolling hills, sandstone formations, bluffs, caves, sandy plains, 84,000 miles of rivers, 15,000 named lakes (many with an abundance of islands), and 16 million acres of forest.
• Unique. Turns out we have rare resources here in Wisconsin. Our specific soil makeup produces arguably the best bittersweet ginseng root in the world – a highly coveted version that can only be grown here. And our renowned sandstone can only be found in three other places in the entire world.
• Strategic. Cranberries are a native fruit in Wisconsin that the indigenous people of the area have always harvested and included in their diets. With the arrival of European settlers, cranberries became a farmed, managed crop that turned Wisconsin into a leader in cranberry production within the United States.
• A Little Bit Country, A Little Bit Rock 'n Roll. Wisconsin is a healthy mix of rural, suburban, and city. The small villages like our Centuria, mid-size towns like Eau Claire, and cities like Milwaukee are each infused with a variety of traditions, arts, foods, and ambience. (Regarding rock 'n roll, it should be noted that the Wizard of Waukesha, Les Paul, is cited for bringing the ubiquitous solid-body electric guitar into modern popularity).
• Proud. Go ahead, call us Cheeseheads – we wear that name like a badge of honor (and possibly with a foam cheese hat). What started as an insult back in the day has become an identity all our own and, boy, do we own it. It directly correlates to our prized cheeses and ties into our devotion to our beloved Packers.
These characteristics are ingrained within everything we do and create here at Stratis. Our three flagship furniture collections are brimming with Wisconsin pride and carefully crafted to represent all our and the state's best qualities.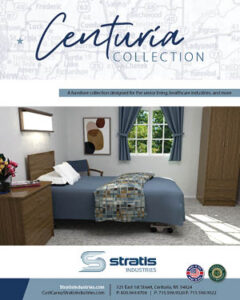 Named for our very own hometown of Centuria, this furniture collection captures our sense of community with the feeling that someone really cared when they designed this line. It is comfortable and reassuring just as we feel in our tight knit village. Each Thermofused Laminate (TFL) piece – bedside cabinets, dressers, wardrobes, head/footboards, and over bed table tops – is available in custom sizes and a variety of colors. The inset style doors and drawers tuck neatly into each item. The TFL surfaces are low maintenance, boast clean lines, and harmonize beautifully with the three hardware pull options. This charming, inviting collection will add a homey feel to spaces in senior living, healthcare, and office environments.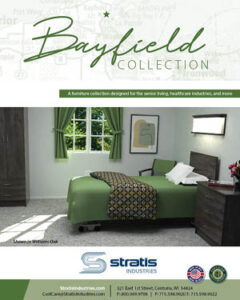 Bayfield (and the surrounding Apostle islands) is the smallest city in Wisconsin, but absolutely awash in personality and outdoor beauty. So too is its furniture collection namesake. Each TFL item is available in 10+ beautiful, nature-inspired colors and finishes. The drawers and doors are styled in a full overlay format, complete with edgebanding around each corner. Available in standard and customized sizes, the cabinets, dressers, wardrobes, desks, head/footboards, and over bed table tops, provide a pleasingly simple aesthetic that can be personalized to taste with the choice of 3 hardware pulls in multiple finishes. The little big city charm of this assortment belies its exceptional durability, making it a perfect match for the hospitality and healthcare industries, plus more.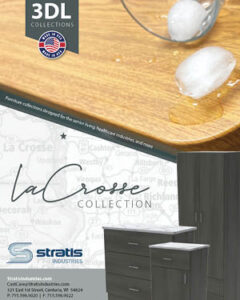 Situated at the junction of stunning bluffs and the convergence of three majestic rivers, sits the town of La Crosse, Wisconsin. The exceptional location of the town has cultivated a marvelous mix of nature, history, and architecture – something for everyone. Our LaCrosse Collection can boast the same premise: providing a look to suit every style. This high-quality group of furniture utilizes 3D Laminate (3DL) surfacing, a cutting-edge laminate that can be contoured and creatively shaped for seamless edges, enhanced durability, and high-impact resistance. More so, the modern, streamlined style is available in 49+ finish options and 5 distinct hardware pulls in a variety of hues. With so many choices and the full overlay style of the door and drawer fronts, there is inevitably a combination that works for any space, in all types of industries.
We are so proud of our home, our company, and particularly the affordable, high-quality products we manufacture like these three collections. We are confident our furniture will be a perfect match for you too.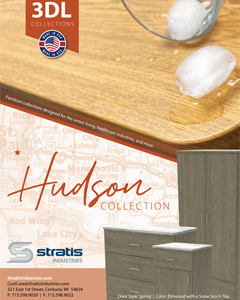 The Hudson Collection is a triumphant blend of classic and modern style, just like the town of Hudson, WI itself. The historic downtown seamlessly blends with its newer, more current architecture – much like the sleek, uncomplicated design of the 3D-Laminate surfaces and Shaker-style doors in the collection. Custom sizes available. Contact your Sales Representative for more information.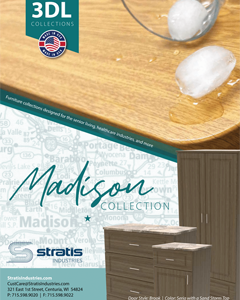 Known for its creative mix of culture and arts, Madison, WI is considered a contemporary city with something for everyone. Much like the Frank Lloyd Wright architecture of the area and the welcoming nature of the community, The Madison Collection offers clean lines with mass appeal and an extra touch of depth in its 3D-Laminate surfaces and a variety of raised panel styles. Custom sizes available. Contact your Sales Representative for more information.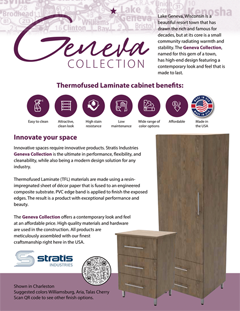 Lake Geneva, Wisconsin is a beautiful resort town that has drawn the rich and famous for decades, but at its core is a small community radiating warmth and stability. The Geneva Collection, named for this gem of a town, has high-end design featuring a contemporary look and feel that is made to last.
For more information on Stratis Industries and our Collections, visit our website.