Lockers – Secure Solutions for Every Industry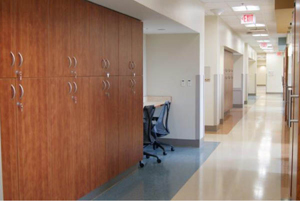 In today's fast-paced business environment, providing a secure and convenient storage solution for employees and clients is essential.
Advanced Security and Convenience:
Lockers provide secure and organized storage solutions but are not just confined to schools and gyms; they have become a vital asset for businesses seeking to offer a secure storage option.
Let's take a look at some industries and common usage: 
Education: Schools, colleges, and universities often use lockers to provide students with a secure place to store their books, bags, and personal items during the day.
Fitness and Sports: Gyms, sports clubs, and recreational centers use lockers for patrons to store their belongings while they work out or engage in sports activities.
Workplaces: Offices, factories, and other workplaces use lockers to store employees' personal items, uniforms, and equipment.
Healthcare: Hospitals, clinics, and medical facilities utilize lockers to store personal items for both patients and staff. In some cases, lockers might be used to store medical supplies or equipment.
Retail: Retail stores can use lockers for storing employees' personal items and for customer package pick-up in scenarios like "click and collect" services.
Hospitality: Hotels often provide lockers for guests to store their luggage before check-in or after check-out.
Entertainment Venues: Movie theaters, theme parks, and concert halls may offer lockers to visitors for temporary storage of bags and personal items.
Public Transport: Train stations, bus terminals, and airports might have lockers available for travelers to store their luggage or belongings while they explore the area.
Recreation and Leisure: Swimming pools, water parks, and other leisure facilities might offer lockers for storing personal items while visitors enjoy the amenities.
Military and Law Enforcement: Armed forces and law enforcement agencies use lockers for storing uniforms, gear, and equipment in a secure manner.
Food Industry: Restaurants and cafes may provide lockers for their staff to store personal items and uniforms.
Research Facilities: Laboratories and research institutions may use lockers to store personal protective equipment (PPE) and other equipment securely.
Museums and Galleries: Cultural institutions might offer lockers to visitors to store bags and other personal items while exploring exhibits.
Agriculture: Agricultural settings like farms or nurseries might use lockers to store tools, equipment, and personal items for workers.
Construction and Manufacturing: Construction sites and factories could use lockers for employees to store personal items and protective gear.
Prisons and Detention Centers: Correctional facilities use lockers to store personal items for inmates.
These are just a few examples, and the use of lockers can vary widely depending on the specific needs of each industry and setting. Lockers provide a practical and secure storage solution in various contexts where the safekeeping of personal items or equipment is essential.
Striking the perfect balance between aesthetics and functionality, these beautifully crafted laminate lockers offer a seamless storage experience, giving your clients peace of mind and demonstrating your commitment to personal security solutions.
Why Stratis Industries Is the Right Choice for Your Lockers
Our lockers are made to order.
You get the security that your customers and employees want, not to mention they are reliable. Our partner Digilock strives for dependability. Whether it be the first lock to the millionth lock their partnership provides efficient and personalized service.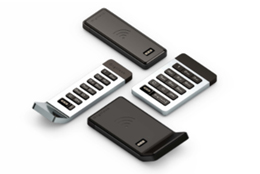 Elevate your locker experience with a range of customizable options designed to enhance functionality and convenience. At Stratis Industries, we offer a myriad of choices to tailor your lockers to your unique needs.
Stay connected on the go with integrated USB charging ports, ensuring your devices are always powered up. Personalize your lockers further with customizable number plates, making identification and organization a breeze. Optimize space with treble hook hang top mounts, providing a versatile solution for hanging items. Choose slant tops for a stylish and functional touch that prevents clutter accumulation. With Stratis Industries, your lockers become more than storage units – they become personalized solutions that cater to your requirements and preferences.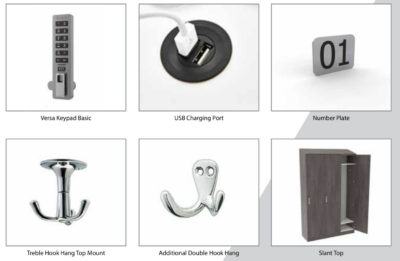 Cleanable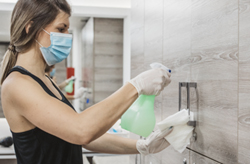 Businesses need storage solutions that are easy to use and maintain. TFL – thermally fused laminate lockers provide a simple and hassle-free storage experience for employees and clients alike.
The laminate locker is sanitary and easy to clean. This design selection performs well under humid conditions with high flow of traffic and is easily maintained.
New Tech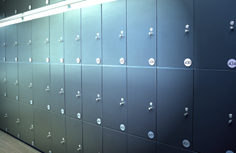 Just because lockers are an old school security device that does not mean they have to be outdated. With new technology the addition of smart locks or electronic locks makes your client's or employee's experience as efficient as possible.
The use of good quality lockers in your workspace will have a huge impact on your company's brand value. They are also a great solution to maintain tidiness and social distancing among students, teachers, clients, and other staff members.
Spaces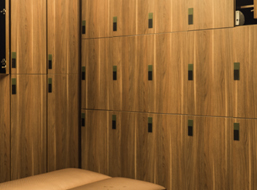 Lockers are an ideal solution for businesses seeking to optimize their space effectively. These compact storage units can fit in a variety of areas, making them suitable for businesses of all sizes. From providing storage for personal belongings to securing important documents, Lockers offer a versatile storage option that maximizes space utilization.
If you have concerns whether lockers will fit your business aesthetically, we offer a range of available design options with our most popular design being thermally fused laminate. Thermally fused laminate comes in a variety of colors to suit your space and offers a luxurious feel while adding to functionality.
Let your customers know you take personal security seriously.
As businesses evolve, so do their security and storage needs. Embracing TFL – thermally fused laminate locker solutions not only elevate your business's security measures but also portrays your commitment to providing personal security solutions and convenience to your clients. These beautifully crafted lockers offer a seamless and efficient storage experience while adding a touch of elegance to your business space.
Send us a CHAT with questions about your locker needs or to get a quote. You can also head to our website and flip through our locker brochure.